Pique-Nique Matt
Keywords:
Pique-Nique Matt, touristic product, recycle, innovation, sustainable
Abstract
When having a picnic in nature, by rivers or beaches, tourists frequently struggle to carry a large number of necessities. As a result, there would be landfills on the riverbank and along the shores. In natural areas such as beaches and rivers, it is difficult to find dumpsters close by. Therefore, the innovative "Pique-Nique Matt" picnic mat with multiple compartments was created. This product is a picnic mat that incorporates the novel concept of adding storage compartments for picnic essentials made from sustainable materials, such as a laundry net bag, foldable trash bin, handmade tissue cover, sewing, and a reusable picnic mat, which promotes environmental cleanliness and pollution protection. The product includes compostable plastic bags for littering. The product is user-friendly and portable, featuring a sling strap, a foldable mat, and a lightweight construction. The product is user-friendly due to its portability, which allows the user to carry it anywhere and at any time. The product is advantageous to society because the community can practise preventing water pollution. This innovation's primary objective is to expose the concept of innovation and the structure of the product to be introduced in the commercialization field at a reasonable price. No marketers or innovators in the global market have developed this kind of product. The product can be used in places like nature preserves, beaches, and riverbanks that people visit.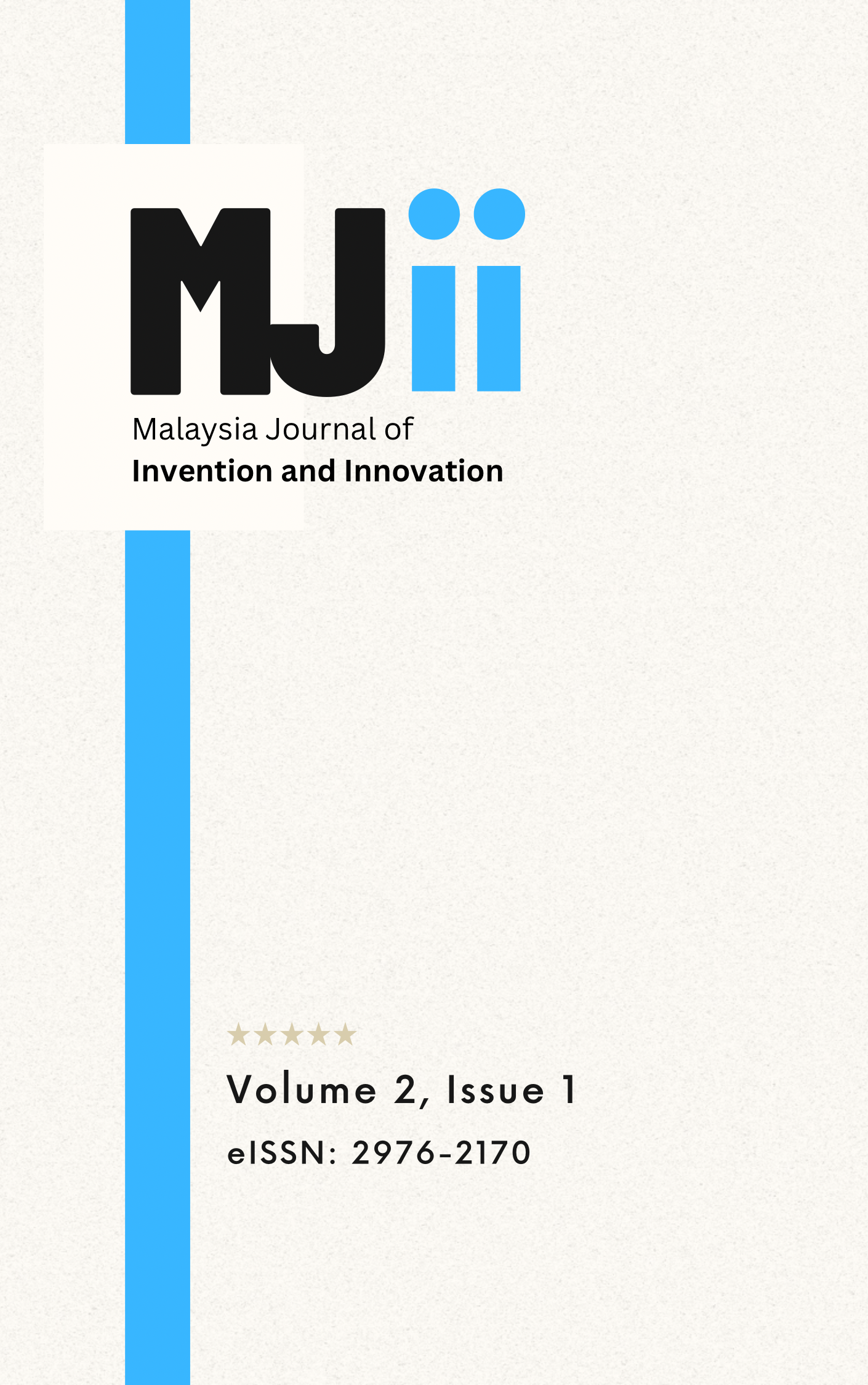 Downloads
How to Cite
Deena Amisha Azri, Dania Qistina Nizam, Mardiah Ahmad, Neyli Izzati Muhammad Nizam, & Hassnah Wee. (2023). Pique-Nique Matt. Malaysia Journal of Invention and Innovation, 2(1), 6–10. Retrieved from https://digit360.com.my/mjii/index.php/home/article/view/12
License
Copyright (c) 2022 Deena Amisha Azri, Dania Qistina Nizam, Mardiah Ahmad, Neyli Izzati Muhammad Nizam, Hassnah Wee
This work is licensed under a Creative Commons Attribution 4.0 International License.
The authors of MJII retain copyright to the content of the articles.
The content is published under the Creative Commons Attribution (CC BY) 4.0 which allows content to be copied, adapted, displayed, distributed, republished, or otherwise re-used for any purpose, including for adaptation and commercial use provided the content is attributed without any restriction.
Authors Rights
The Journal grants you the following non-exclusive rights, subject to giving propoer acknowledgement to the original journal. The authors may:
(i) to reprint or reproduce the contribution, in whole or in part, in any publication of your interest.
(ii) to use material for teaching purposes; including availability of the matarial in academic course.
(iii) to post a copy of the contribution on your personal or institutional web server, provided that the server is non-commercial and there are no charges for access, and
(iv) to deposit a copy of the contribution in a non-commercial data repository maintained by an institution of which you are a member.
Author's Agreement
Author(s) guarantee the journal the following:
(i) that the contribution is their original work;
(ii) that it contains, no matter what, content that is defamatory or is otherwise unlawful or which invades rights of privacy or publicity or infringes any proprietary rights (including copyright);
(iii) that the contribution has not been published elsewhere in whole or in part and that no agreement to publish is outstanding other than this agreement. Author(s) agree to be responsible and hold the journal, its editors, staff and affiliate organizations harmless against any claims arising from or related to the breach or inaccuracy of any of the guarantees listed above.
Disclaimer
The editorial team of the MJII and the publication team of Academica Press Solutions share no responsibility regarding the views and opinions expressed by the authors. 
The content published in MJII  is Open Access and can be shared, adapted, reproduced, reprinted, after appropriate acknowledgment and giving due credit to the author(s) work.